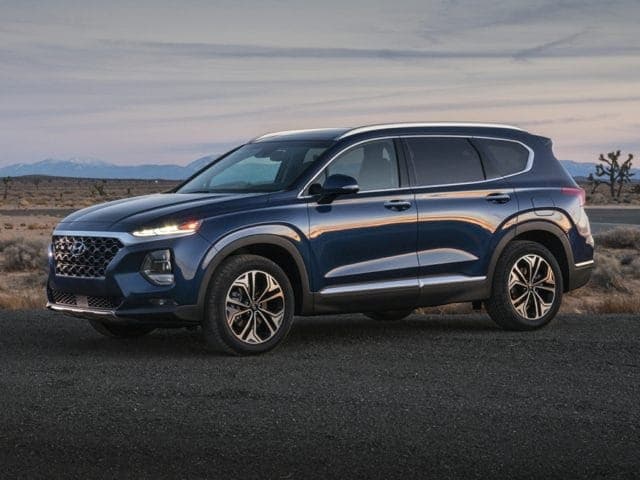 The 2019 Hyundai Santa Fe Excels at Commutes and Adventures Around Washington DC
Some major changes come to the Hyundai Santa Fe with the 2019 model year, but drivers from Hyattsville to Laurel, MD are the ones that benefit from these renovations and additions. The compact SUV now only has two rows of seats, yet it remains a great option for carpoolers and families in the area thanks to a versatile cabin design and an array of features to help you get going and stay safe when on the road. If you're in the Washington DC area, you can come see the 2019 Hyundai Santa Fe at our dealership in College Park and read on below if you want to do some more research before visiting.
Interior Design and Comfort
While the 2019 Hyundai Santa Fe gets rid of the third row of seats, its cabin still has the space that makes it a great option for those around Beltsville that have to commute to work. Five passengers will fit in comfort while there remains room behind the second row for items you need for work or groceries if you stop on your way back home.
Going beyond space, the Hyundai Santa Fe offers several features that strive to make sure discomfort is not something passengers experience often. These range from climate-focused features, like heated seats, to others, like the memory system for the driver's seat, that improve the ease of use of the car to others that focus on keeping the cabin quiet. With the design and features, you're more likely to take to the road with a smile on your face at all times.
Performance
Another aspect sure to make you smile is the performance of the 2019 Hyundai Santa Fe. It has two engines, one that is more efficient if you want to save money along your commute while the other is more powerful, which will intrigue drivers that want to cut loose on their drive home after a long workday. More than the engines, the Hyundai Santa Fe turns sharply, but smoothly, on packed city streets and twisting country roads alike, and the suspension handles rough terrain without impacting passenger comfort.
Technology
As a 2019 model, drivers expect a lot of new tech from the Hyundai Santa Fe, and it doesn't disappoint. There are a ton of mobile device charging options, like a wireless charging pad and USB ports, and Apple CarPlay and Android Auto for those devices are perfect for today's world. More than that, there is Proximity Key entry and a hands-free liftgate for simpler access to the car as you head out, and a head-up display will keep drivers updated on the important info without making them take their eyes off the road.